© 2020 Prosper Trading Academy.
Stock and Stock Options trading involves a substantial degree of risk and may not be suitable for all investors. Past performance is not necessarily indicative of future results. Prosper Trading Academy LLC provides only training and educational information. By accessing our content, you agree to be bound by the Terms Of Service.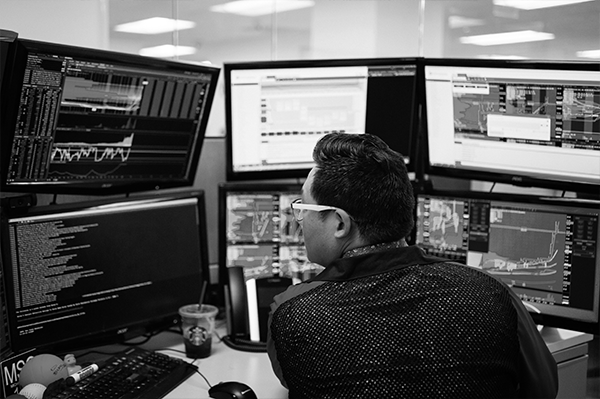 Get the #1 Alert Service Targeting Daily Wins
Charlie Moon's trading methodology has helped thousands of traders (like you) achieve unthinkable results. With his highly-vetted SMS and Email Alerts, you could be scalping 10x gains from stocks you've never even heard of.
Get ready to sit back and let Charlie hand deliver all his proprietary research and analysis to you in real-time. All you have to do is sign up below, wait for your first alert, and watch the magic happen.
Get Access Now
Learn More
Moon's Money Trades Works 24/7
...For You!
Every trade alert is an invaluable market lesson where you can learn AND become a highly profitable trader at the same time.
Charlie Scans for Trades with Massive Upside Potential
This is where Charlie puts his proven methodology and decades of trading experience to work for you...
Every day!
Using proprietary scanning technology, he is constantly searching for explosive opportunities in the hidden corners of the market.
When an opportunity is hot and it's time to act quickly… Charlie releases a real-time trade alert identifying the trade he's about to make.
Not only that, you'll get every detail including where to set your stop losses, price target(s), and even the methodology used to locate the trade...
All of this sent immediately via SMS and Email so you never miss another trade!
You Get a Buy Alert in Real-Time and Place the Trade
Wait for the Exit Signal, or Take Profits As You Wish!
When it's time to exit at the BEST possible moment…
You'll Get An Alert!
You'll have all the details in front of you, just like before...now it's on YOU to take action!
After a trade entry and exit, Charlie goes the extra mile. For his Moon's Money Trade members, he'll break down every part of the trade from the logic used... to the good (and bad) decisions made.
What is the Moon Methodology?
Here's two FREE resources giving you an inside peek into the Charlie's unconventional tactics he uses to find explosive trades.
A Quickstart Guide To Penny Stocks
Download your step-by-step guide to penny stocks and learn the top strategies and patterns used by Charlie… the same strategies he uses to generate four-digit gains in a matter of days.
Here's what's Inside:
The most guarded secrets to profiting from explosive penny stocks.

Step-by-step methods and tricks used by the market's biggest players.

How to capitalize in a niche without overly exposing yourself to risk.
Download Now →
Learn the 3 Secrets to Generating a Six Figure Income Trading Stocks
Join my next free training to learn the 3 simple set-ups which are the backbone of every trade you make...Whether you know it or not.
You'll get to learn:
The Cross - When these two major stock indicators cross over, it's safe to bet on a BIG upside breakout.

The River - This setup is key to netting repeat profits in range bound stocks using two simple 'guides'.

The Staircase

- Combining volume and resistance indicators, this setup helps you buy in at the perfect time.
Join My Next Free Training →
Charlie Moon is our popular coach of penny stocks. His commentary has been featured regularly on a wide variety of financial TV networks like Bloomberg Business, Fox Business, CNBC, CNN, and BNN… When it comes to teaching, Charlie is a patient coach and he excels at one-on-one coaching, making even the most complex concepts sound simple.
Prosper Trading Academy, Penny Stocks Coach
What Moon's Members Have to Say…
Our members come from a variety of backgrounds, but they all have one thing in common - they love making money!
If you're looking for results, you've come to the right place...
"My experience with Prosper Trading Academy has been amazing. David with Prosper Trading within the stocks division of the company gave me 1 free days trading penny stocks with Charles Moon. MADE FREE MONEY!
Prosper Trading is the best in the penny stock division with Charlie Moon. Charlie really cares and your success and your money. Charlie is a real mentor. I have already seen profits trading with Charlie Moon and Prosper Trading Academy."

Steve Sanders
November 8, 2018
"Scott and Charlie are about as honest as you will find in the business. They do not blow smoke and don't give you false hopes for over sized returns. I have been a sucker for both in the past, not with these guys though. What they promised they provided. Not so with other more expensive trading services. Best money I've ever spent in the trading world."
Michael Carr
April 27, 2019
"Charlie Moon has a system that is working for his clients. I have made my initial investment back several times over. The good news is it requires very little time investment and does not require sitting at the computer all day long. I have already exceeded my investment goal for the year and it is only July!"


Tim Wheeler
July 16, 2019
Don't Miss Another Life-Changing Trade.
Join Now →
Don't Miss Another Life-changing trade...
FREE Training Session